There are only five more months left in 2022 and the UFC already has their slate filled up to early October for main event fights. It may feel like we haven't had a true superfight so far in 2022, but there are a number of potential fights that the UFC could realistically make that could save a pretty uneventful year.
Whether or not these fights actually happen is one thing, but if there is a chance, these are the five biggest potential fights that the UFC could put on in 2022 that hardcore and causal fans would pay to see.
Nate Diaz vs Tony Ferguson
If this fight is ever going to happen, now is the time to do it. Both fighters are heavy fan favorites in the MMA community and both need a rebound. Tony Ferguson has lost 4 fights in the row after suffering a brutal headkick knockout by the hands Michael Chandler at UFC 274. Dana White has no plans to cut Ferguson but he is in desperate for a big fight and a victory.
Meanwhile, Nate Diaz hasn't fought in over a year and he is not happy about it. Diaz, who is on the final fight of his UFC contract, has been begging the UFC on social media to book him in a fight. Diaz attempted multiple times to get a fight with lightweight contender Dustin Portier, but to no avail. Age is not on either fighter's side as both on them are in their late 30s and arguably in the tail end of their careers. The buzz for a Feguerson vs Diaz fight would be incredible and with not many options on the table, there isn't a reason for this fight NOT to happen.
Related: Nate Diaz Says He Wants A Fight Or To Be Released From The UFC To Challenge Jake Paul
Conor McGregor vs Jorge Masvidal
Two fighters at 170 pounds who are in desperate need of a win are Conor McGregor and Jorge Masvidal. The two have been taking shots at each other since 2019 but neither side has come close to agreeing to a fight. Masvidal is coming off of three straight losses at 170, and Conor McGregor has only won 1 fight since 2016.
The thing that keeps these two fighters in the mix are their drawing power. Masvidal has issued multiple call-outs to McGregor and the Irish born fighter recently branded Masvidal a "pigeon brain" before his rival promptly fired back to accuse him of being too scared to pursue a fight. Both fighters are stars and marketing machines, and both arguably don't have many more big fights ahead of them, so this is the perfect time to make this fight.
Jon Jones vs Stipe Miocic
It seems like we have been talking about this fight for about 4 years and it still hasn't been announced. Jon Jones last stepped in the cage one month before the COVID outbreak of 2020 and hasn't been back since. Jones has told the world that he is training for a debut at Heavyweight nearly three years later and we are no closer to him stepping in the cage than we were in 2019.
Despite this, UFC President Dana White said that Jones is just waiting on an opponent and that he's good to fight once again. Miocic, a former UFC heavyweight champion has not fought since he lost his belt by knockout to now champion Francis Ngannou in March of 2021. Both fighters are sitting on the shelf waiting to go and fans are getting tired of waiting for them to fight.
Khamzat Chimaev vs Colby Covington
With UFC Welterweight Champion Kamaru Usman set to defend his title against Leon Edwards at UFC 278 in Salt Lake City, that leaves a massive hole in who would be the #1 contender for the belt at 170 moving forward. Khamzat Chimaev is 11-0 in his impressive MMA career and the only person to defeat Colby Covington in the UFC since 2015.
Chimaev vs Covington seems like a no brainer for the #1 contender fight at 170 as it will be extremely difficult to deny either man a shot at Usman with a victory. According to oddsmakers, Covington is currently a -135 favorite in the futures market whereas Chimaev is a narrow +115 underdog.
Charles Oliveira vs Islam Makhachev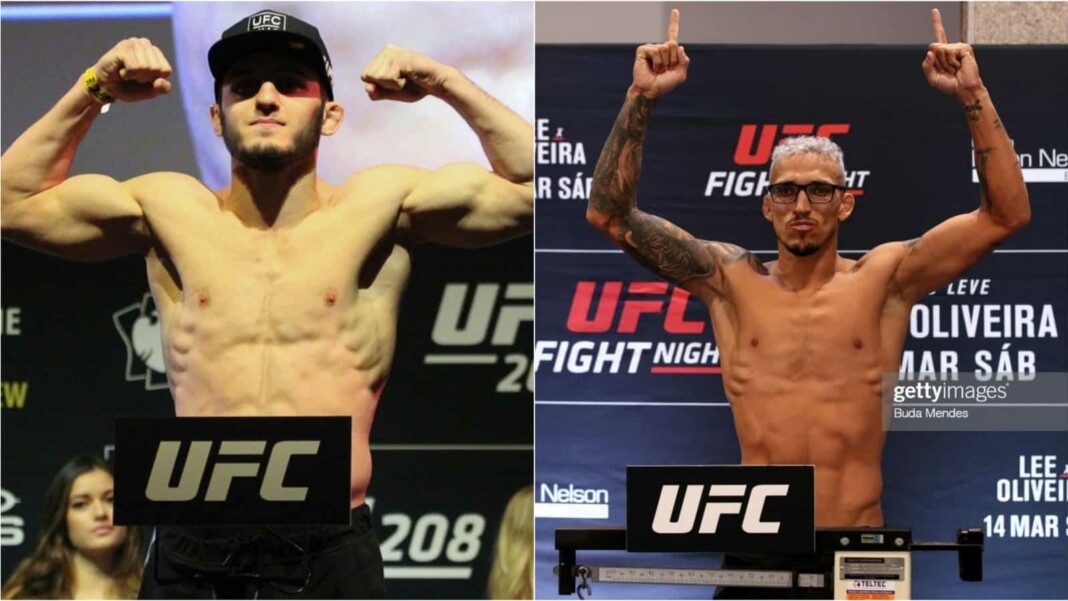 Charles Oliveira may not have the title due to missing weight in his last fight against Justin Gaethje, but he is without question the best fighter in the lightweight division. Islam Makhachev is 22-1 and has drawn a lot of comparisons to UFC Hall of Famer Khabib Nurmagomedov. Oliveira didn't fight Khabib before he retired from the sport so Makhachev vs Oliveira is the closest we will get to that fight.
Makhachev has won 10 fights in a row as the former champion and Oliveira has won his last 11. There isn't a bigger fight that the lightweight division could put on right now outside of two top contenders at 155.
What other UFC fights would you pay to see this year?